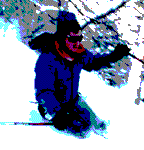 Ski Vermont!
All About the SkiVt-L Discussion List
List Subscription Control Center
---
SkiVt-L is a Listserv style email discussion list.
Our all purpose disclaimer:
SkiVt-L is a non-commercial, non-profit, labor of love unaffiliated with any ski area or corporation. It is administered through the kindness of Academic Computing Services -- a tiny arm of Computing and Information Technology -- itself a division of the University of Vermont, Burlington, Vermont 05410-0160. The opinions and snow reports distributed via SkiVt-L in no way, shape, or form represent the opinions of the any of the above named bodies; nor does anyone accept any responsibility for ruined ski vacations based on false or misleading information found here.
SkiVt-L welcomes the participation of all snow sliders. Three-pinners, riders, and backcountry enthusiasts with an interest in Vermont are encouraged to participate.
SkiVt-L exists as a non-partisan but often heavily biased source of area-provided and eye-witness condition reports, mostly from the Northern Vermont Ski Region: Jay Peak, Smugglers Notch, Stowe, Bolton Valley, Mad River Glen, and Sugarbush.
The area reports are compiled from several sources, including those filed with the various news wire services, the Weather Underground at University of Michigan, and the local ski area snow phone hot lines. These are augmented by daily postings of the Vermont State Weather Forecast and NWS hydrological reports from the summit of Mount Mansfield (Vermont's highest mountain) and the base of Jay Peak (Vermont's snowiest mountain). Heavy snow warnings are also included, too, as they come in from secret National Weather Service sources -- these are often modified by the contributors to include their own "hunches."
The eyewitness reports come from members like you.
Information on skiing outside the northern Vermont region (Killington, Stratton, towering Whiteface, various and sundry New Hampshire areas, and the odd report from Snowbird or Alpe d'Huez) appears on an ad-hoc basis.
Discussions of any and all other aspects of Vermont skiing and skiing in general are welcome and encouraged.
Join The List
Click Here
to join the fun, contribute your own reports and ski wisdom.
How to interact with the list
To make a posting to the list, send an electronic mail message to:
skivt-l@list.uvm.edu
Fill in a meaningful subject field (to give a short description about your message) and then type in the message. Within a few minutes, maybe as long as an hour, your message will be sent to all the subscribers.
By default, your postings will be sent to the list, and a copy will come back to you as confirmation that your message was received by the List Robot and delivered to the subscribers. If do not want or need confirmation, change your acknowledgement setting by using the controls above.
To reply to a posting from the list, use the normal reply function of your mailer, but remember that your reply will go to everyone on the list. If you wish to respond only to the author, take care that you explicitly take the necessary steps to do so. These steps vary from mailer to mailer (pine is not netscape is not Eudora), and further discussion is beyond the scope of this document.
DO NOT send "unsubscribe" or "signoff" messages to skivt-l@list.uvm.edu. Your request will be ignored, and your ignorance will be ridiculed. You have been warned.
Contolling you subscription the old fashioned way
To subscribe, send the following message to
listserv@list.uvm.edu
subscribe skivt-l Your name goes here
To unsubscribe, send the following message to
listserv@list.uvm.edu
signoff skivt-l
Note that your name is not required (and will produce an error if supplied).
For ack, noack, postpone, and digest, again send mail to listserv@list.uvm.edu leave the subject field blank, then type in this command as the first line of your message:
set skivt-l mail ack
or noack, postpone, or digest as required.
To issue other Listserv commands, such as review, or help, send them to listserv@list.uvm.edu in a similar way. For example, to review to list membership, send mail to the Automated List Robot at listserv@list.uvm.edu leave the subject field blank, then type in this command as the first line of your message:
review skivt-l
Last modified June 06 2000 09:39 PM