copyright 1994,1995 Wesley Alan Wright

Alpe D'Huez: Alpe D'Huez, Oz, Vaujany, Villard Reculas
Base
1270m (4165')
(Lowest point 1120m if you really push it, but nobody does)
Summit
3300m (10922')
Maximum Vertical
2060m (6756')
Skied Vertical
1980m (6498')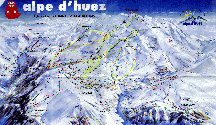 Yow! This place is big. Skied it last year, studied the trail map the last six months, and had to come back to fully utilize the vertic al. If you want to study the place, too, there's a whole slew of commercial info on the web regarding Alpe d'Huez: from SkiIn, in French and E nglish; and from SkiFrance, in French and English (I recommend the French version).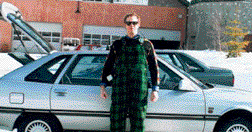 I landed in Oz with my powerful Renault automobile, ready to ski. At 1350m, Oz is a key starting point for a day trip: not just because it's a cool name, but because it's smaller and more ma nageable a station than the main Alpe D'Huez village. Natural snow doesn't always extend that low, but they have 385 snow cannons to insure you can ski back to any of the stations from which you start.
Skied only three runs, but they were Big Ones with a capital B.
Run 1: From Oz, I wandered up a couple of lifts to the summit of La Télécabine (gondola) des Grande Rousses, and then skied down to La Villette (near Vaujany). A mere 4690 vertical feet to warm up on easy red and blue pistes . Fun!
Run 2: Caught the Vaujany/Villette transfer lift to the Vaujany/Alpette/Dome des Petite Rousses Télépherique (Cable car), then skied a short catwalk to the Pic Blanc Télépherique.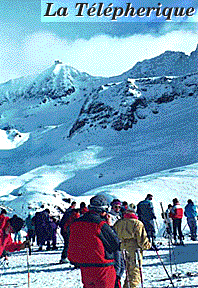 travels to to the 3330m summit of Pic Blanc. From there, I skied Le Chateau Noir and Sarenne pistes, with a couple of slightly off piste variations in search of powder. F ound some, but not quite enough to justify the crowds and hardpack snow farther down the glacier.
Still, at some 18km (11 miles), this is claimed to be the longest marked piste in Europe. Not too dissimilar from the Vallée Blanche in Chamonix, although the scenery isn't quite as spectacular. Vertical drop: 5970 feet.
Run 3: Another series of lifts brought me back to the summit of Pic Blanc for a spin down the infamous Tunnel. The tunnel itself is a 200m tunnel from the west side of the Grand Rousse ridge line to the east face.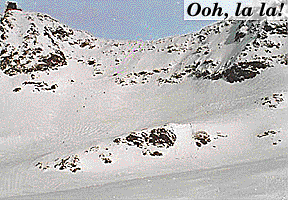 Here's where the good snow was hiding! Soft snow and some fresh tracks. Ok, ok, so there was a bit of crust and wind slab, too, but no real bumps and ever so steep. I hooted and hollered the whole way. Stopped at around 3000m for a late lunch, and then raced down some reds and blues to a short but sweet set of soft bumps and trees just above Oz Station. Skied to within 3 feet of my car. Total descent: 1980m, or some 6494 ver tical feet. Try That in North America!
Back to Day 01 at Les Sept Laux, or on to Day 03, a Randonnée au Col de Roche Noir

---
Send comments to Wesley Alan Wright (email Wesley.Wright@uvm.edu) Last update November 15, 1995